Shwmae! / Hello!
My name is Sian Abbott. Born, bred, and raised in beautiful West Wales. I am a married 40-something-year-old mum to three grown up kids, 6 cats and 2 dogs! In February 2018, with the help of family and friends, I fulfilled my life-long ambition of opening my own pottery painting studio – 'Pot-Sian'.
Pot-Sian was created in February 2018 after 20+ years of dreaming and talking about it!
My love for pottery started when I moved to New Quay at the age of 11 and joined a pottery club every Saturday morning. (I still have the first piece I ever made!)
In my late teens I then discovered a 'paint your own pottery' studio in Dihewyd, run by a lovely lady called Sally and I went along to her evening sessions for years! It was during that time I knew that one day I would have my own studio.
I've had various jobs over the years while raising my 3 children, but arts and craft has always been my hobby and enjoyment in my spare time. It was at the end of 2017 that the opportunity arose to start my dream business.
Pot-Sian was based at Derw Stores in Caerwedros (or better known as the green shed!). It was previously known as Peapod Junction and when they closed and the building became empty, I decided to go for it!
A few months was spent with the help of family and friends to do alterations, decorate and prepare the building for the opening of Pot-Sian in February 2018.
The pottery painting studio has been a huge success and it was a pleasure to welcome families, groups and parties, both locals and tourists.
Unfortunately, due to the covid pandemic, I had to close Pot-Sian at the green shed in 2020 and have since worked from home, which has worked well and kept the business going! Plans are underway to have a new studio.
I also take on commission work, painting unique and personalised items. Please have a look at the gallery of past work I have painted for customers.
I love being creative and helping people to paint their masterpieces, however skilled with a paintbrush they may be. I enjoy running birthday parties, ladies' nights, hen parties, parent and baby groups, and much more!
Mobile Pottery Studio in Wales
Since starting my business in 2018 I have also offered a mobile pottery studio and attended many school fairs, various venues for groups, parties and corporate events.
My aim with mobile service is to make pottery painting a fun and accessible activity for people of all ages from all walks of life!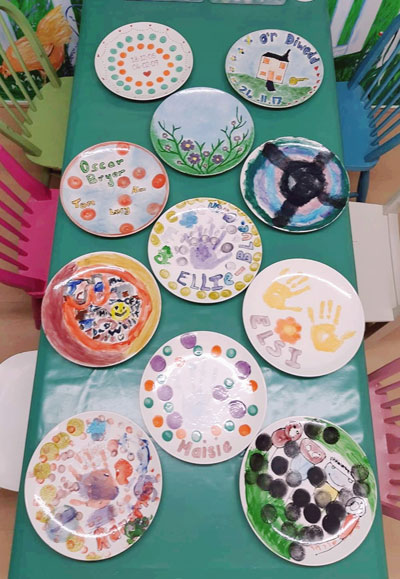 Translation and definition of 'Pot-Sian':
Verb ~ 'Pottering' ~
To occupy oneself in a relaxed and pleasant way.
"She spent her day off pottering about the house".